Revolutionizing Ground Investigation: The Power of Direct Push Drilling with MATECO
When a client is planning a soil or groundwater investigation, choosing the right method for soil and groundwater sample collection is crucial. MATECO Drilling Company has been a seasoned player in these projects since 1974. John Pitsch, MATECO's General Manager, proudly mentions that MATECO has been specializing in direct push drilling for 24 years.
Direct push technology (DPT) uses hydraulics and a percussion hammer to advance soil and groundwater sampling equipment into the ground. Unlike auger drilling, DPT tooling is advanced with little soil disturbance resulting in a minimum amount of waste soil cuttings.
DPT soil sampling utilizes samplers ranging in lengths from 2' to 5', compared to the 2-foot split spoon method," John explains.  DPT sampling systems allow for the use of a "discreet" sampling system where the operator can advance the soil or groundwater sampler to a target sample zone and then open the sampler for sample collection at a precise depth".
MATECO's partnership with Geoprobe dates back to 2000 when our team expressed the need for a remote-controlled ATV carrier/rig to enhance operator safety. Geoprobe delivered the first remote-controlled 6610DT, which is still part of our fleet. Direct push rigs have a smaller footprint, making them perfect for compact sites where space is limited.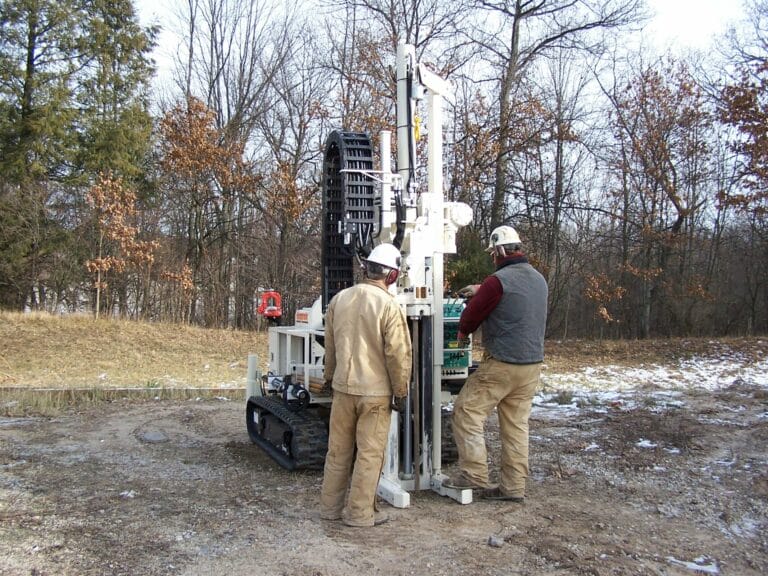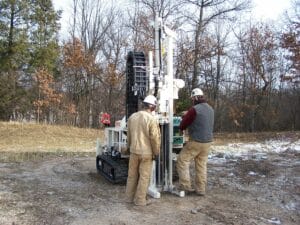 MATECO's current Geoprobe fleet includes the following models; 6610DT tracked rig, 6620DT tracked rig, (2)  – 7822DT tracked rigs, 8140DT Sonic tracked rig, a 420M cart rig, a 5400 series probe mounted on a Marsh Master amphibious rig and a 2060 CPT/MiHPT fully enclosed Cabin Crawler.
DPT offers a cost-effective method of soil and water sample collection.  Some of the advantages over conventional drilling methods include; compact rigs with smaller footprints, quicker set-up and movement between boring locations, reduced support equipment required, and reduced waste generation. "With MATECO's fleet of direct push rigs and tooling, we can cater to any client's needs, whether it's soil sampling, water sampling, soil vapor sampling, chemical injection, or direct imaging," John affirms.
If you need drilling services, don't hesitate to contact MATECO Drilling Company at 1-800-968-3475. You can trust MATECO Drilling Company to handle your drilling projects with confidence.