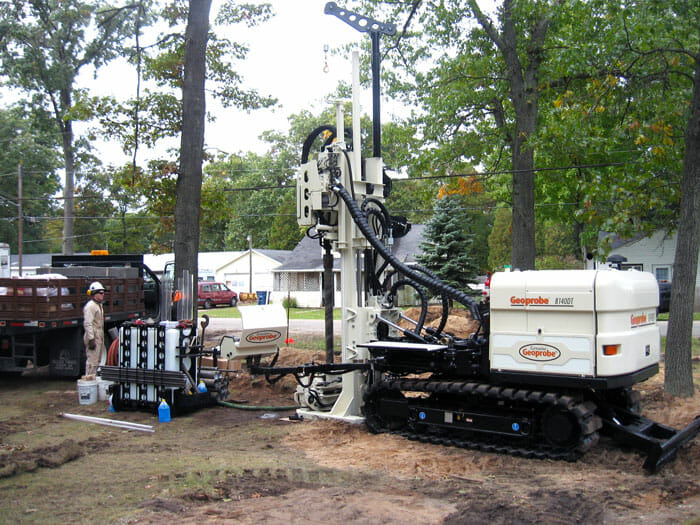 Our model is to invest for the future.  Aligning with this model, MATECO's investments include training and certifying all employees, upgrading existing equipment and purchasing new state-of-the-art investigative tooling and equipment.  Over the past few years, our efforts included equipment for: low clearance, ATV track, direct sensing, high torque, direct push drilling, sonic drilling, water sampling, rock coring and support equipment.
Combined Investments Help Decrease Risk
These investments have not come without risk in this challenging economy.  While we experience risk daily, the test drilling industry continues to provide opportunity for us regionwide.  Opportunity is increased and risk decreased for both our company and client companies, when MATECO provides valued professional employees who operate and manage state-of-the-art equipment during project work. It is the combined investment in valuable employees and equipment that produces cost-effective, safely achieved, results for our clients.
With the economic decline, clients continue to seek methods to streamline project work in order to achieve results more economically.  Looking back at some of the large projects we completed this year, our business model was foundational in terms of winning and completing projects.
Offshore Drilling at DC Cook
For example, Phase 2 of the Offshore DC Cook project on Lake Michigan, which Crew Chief John Pitsch and Driller Assistant CJ  Stoutjesdyk worked on, included an investment into our drill rig by sending it to the manufacturer for 6 weeks.   Upgrades and preventative maintenance were performed before it was loaded onto a barge for the scheduled 90-day drilling program.  A major breakdown 5 miles offshore would have been very costly to the project.
Drilling Rig Upgrade for Bedrock Investigation
The investment into the CME 55-300 drill rig, including two water pumps not normally purchased with this machine, was crucial in completing a 3 month long deep bedrock investigation that Crew Chief Gary Swift and Driller Assistant Danny Childs worked on this summer.  Some of the borings were as deep as 300 feet in areas too tight for large drill rigs.
SONIC Drilling Machine for Continuous Soil Sampling Below Concrete
The purchase of the mid-size SONIC machine allowed us to successfully win a large project in Lansing where over 100 borings were drilled by Crew Chief Jack Sanders and Driller Assistant Neall Daniel.  The team bored through a thick concrete surface in order to begin continuous soil sampling 20 to 40 feet deep.   Standard concrete coring and auger drilling at each location would have been more expensive for our client than our sonic drilling method approach.
Investing In The Future and Exceeding Client Expectations
MATECO continues to exceed clients' expectations thanks to the caliber of our drilling team. We accurately bid projects, ensure equipment is held to the highest safety standards, and train our employees to utilize their expertise on-site. Communication between our staff and clients enabled us to make sound drilling decisions and execute work safely. It has been MATECO's good fortune to work through a good volume of work this summer and fall despite the economy.  Through our valued investment in our equipment and employees, our business prospects remain promising.